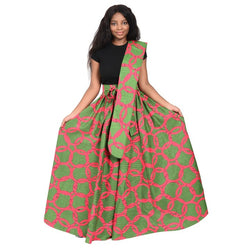 Advanced apparel
Maxi Skirt- Pink and Green Bliss - Ankara African print Maxi Skirt with matching headwrap
Rich colors make this skirt is absolutely stunning!  Represent your culture and Heritage in this outfit. The perfect expression of African style and boldness. Pictures don't do this justice. Handcrafted and tied with a bow with elastic high-waist.
Hand wash cold. Lay flat or tumble dry low.
Matching head wrap/scarf included. 
Best Product Low Price.
100% luxury cotton.
Pink and Green- Ankara African print Maxi Skirt with matching headwrap