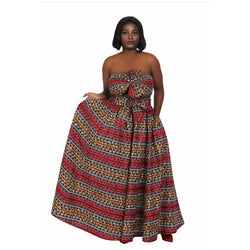 Advanced Apparel
Maxi Skirt -Many Layers - Ankara African print Maxi Skirt with matching headwrap
Many Layers print and a unique design make this high-waisted maxi skirt perfect for a night out! Represent your culture and Heritage in this outfit. The perfect expression of African style and sophistication. Pictures don't do this justice. Handcrafted and tied with a bow with elastic waist.  
Hand wash cold. Lay flat or tumble dry low.
Includes matching head wrap/scarf.
Best Product Low Price.
100% luxury cotton
Many Layers- Ankara African print Maxi Skirt with matching headwrap