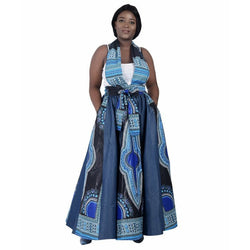 Advanced Apparel
Maxi Skirt - Denim and Ocean Blue Dashiki print Maxi Skirt with matching head wrap
This beautiful maxi skirt is made from good quality African print fabric, 100% Wax Block Cotton.
Maxi Length
Elastic waist Free size- will fit up to a 3x

$49.99

Side pockets
Sash/bow tie
Actual fabric colors may slightly differ from the pictures viewed on screen, due to variations in computer monitors, and/or mobile device settings.

CARE INSTRUCTIONS :
* Hand wash separately using a mild detergent.
* Press on the reverse side with a warm iron.
*Machine wash at your own desecration.
* Do not bleach.
Maxi Skirt with matching head wrap