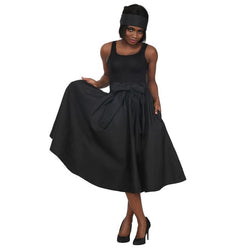 Afrocentric Boutique
Midi Skirt - Black Out Midi with matching Head Wrap
Solid Color Black Midi Skirt with matching headwrap.  The skirt is elegant and flowing.
The skirt has two convenient pockets and an elasticated waistband with attached belts. Comes with a matching head wrap. This skirt can be dressed up or down.
Hand wash in cold water. Gentle dry cycle.  Midi Skirt With Matching Head Wrap.