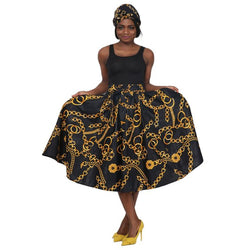 Advanced Apparel
Midi Skirt - Breaking Chains- Midi Skirt with Matching Head Wrap
Breaking Chains Print Midi Skirt. This bright and bold gold and black skirt is designed for a woman who stands out. The skirt is elegant and flowing with a Gold Chain  design. The skirt has below knee panels, two convenient pockets and an elasticated waistband with attached belts. Comes with a matching head wrap. This skirt can be dressed up or down.
100% Cotton. Free Size. Will fit up to a 3x.
Hand wash in cold water. Gentle dry cycle.
Colors may slightly vary from the photos.